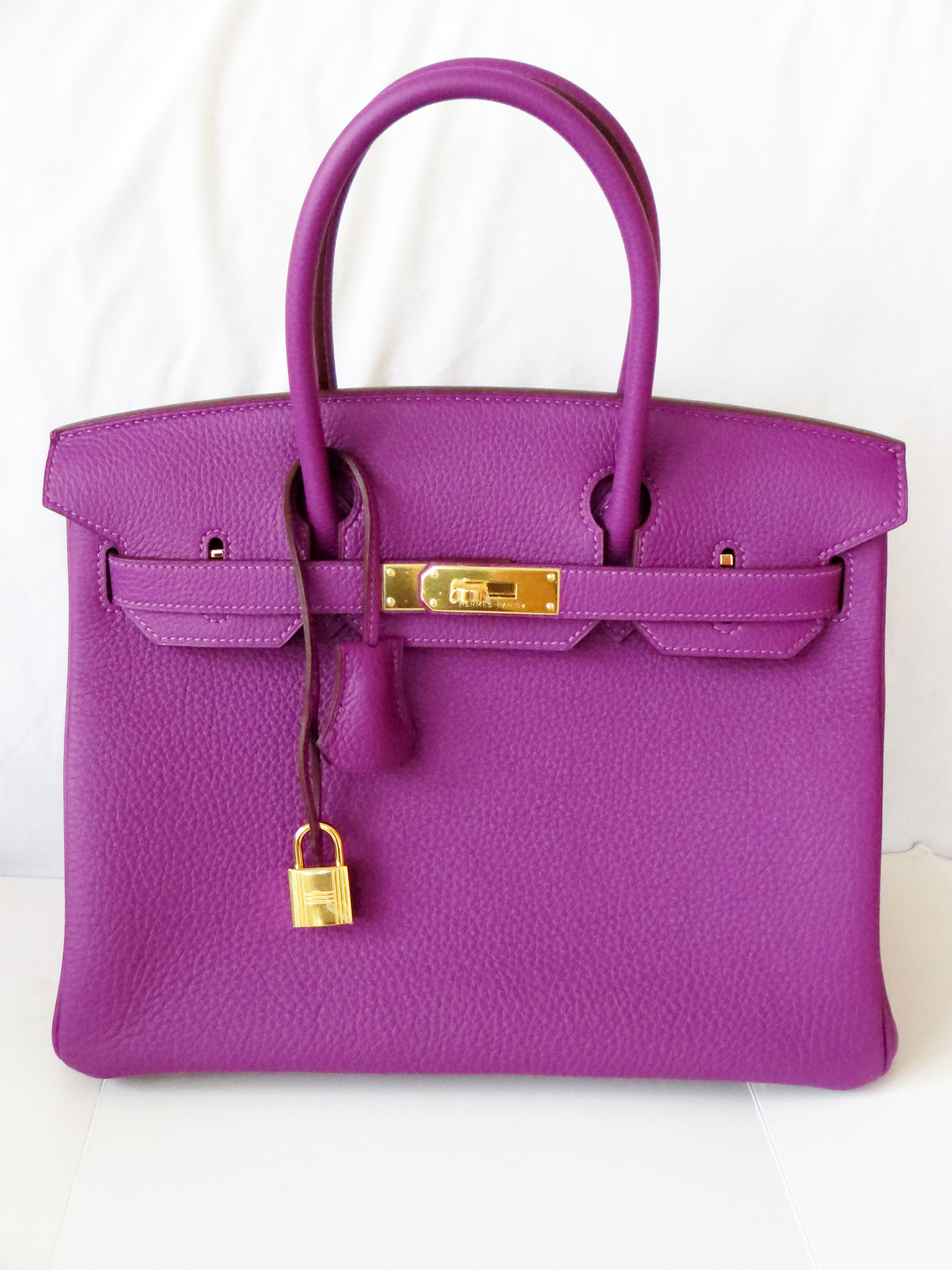 Birkin
sold out
2014 LOVELY! NEW Hermes Birkin 30 Anemone Purple Bag Togo Gold hardware GHW
Brand new in box, authentic Hermes 30cm in the this SO HAPPY
Anemone Purple!
Just came out for 2014!

With the warm gold hardware, what a sweet combo!
Anemone is in between Crocus and Ultraviolet. It is a true purple color.
To be seen and want to be seen!!

A Birkin is a dream for all women in the world and not to mention it is impossible to land your hands on this
absolutely stunning birkin bag in the comfortable 30cm size!

Completely brand new, fresh from story in original packaging!
This is the bag you want to be seen in!
Leather: Togo leather, it is very durable and the color looks really good on this togo leather.

30 cm is really hard to find, everyone is looking for it! This size sits just right on your arm and you can put tons of things in there!

This adorable bag measures 30cm-12" long, 21cm-8.5" high, 15cm-6" deep

Stamped with letter "R" for 2014 and numbered by the craftman's ID number as well, embossed on the interior of the strap.
Completely brand new, not carried even once!
The gold hardware is still in plastic, Hermès-Paris is embossed in gold on the bag, including 4 gold feet on the bottom of the bag.
This auction comes with
Brand new and authentic Hermes Anemone 30cm in gold hardware
lock, keys, clochette,
a special made raincoat for your lovely birkin,
the original Hermes dustbags,
Hermes orange box,
and ribbon.
This is exactly the whole set you would get from the Hermes store, get the whole Hermes experience without the wait!!!

Guaranteed Authentic or your money back.
Please feel free to ask for more details and more pictures.
We ship internationally
If you have any questions - please write directly via ebay and send us a message.